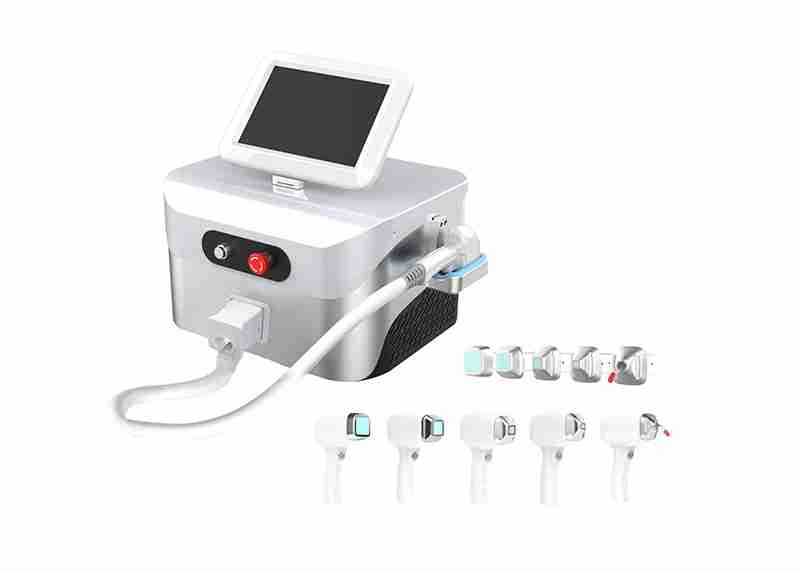 Portable Diode Hair Removal Laser KR-BM108
Triple wavelength, Five treatment windows, High output power, Equipped with special skin cooling plate,Permanent hair removal for all hair colors and skin types.
Get a quote
808nm Diode Laser Hair Removal Equipments use the optimal hair removal wavelength of 808nm. The optimal 808nm wavelength has long been considered the gold standard for permanent hair removal. Diode laser hair removal machines for sale offer a comfortable, speed, effective and convenient method for permanent epilation.
808nm Diode Laser Hair Removal Machine Treatment Principle:
In the treatment procedure, a series of low fluence, high repetition pulses increases the temperature of both the hair follicle and the surrounding, nourishing tissue to 45 degrees Celsius. This more gradual heat delivery uses the chromophores into the surrounding tissue as reservoirs to effectively heat up the hair follicle. This, along with the heat energy absorbed directly by the hair follicle, damages the follicle and prevents re-growth.
808nm Diode laser epilation equipment is particularly effective to hair follicle melanocytes without injury surrounding tissue. The laser light can be absorbed by the hair shaft and hair follicles in the melanin, and converted into heat, thus increasing the hair follicle temperature.
When the temperature raises high enough to irreversibly damage the hair follicle structure, which disappears after a period of natural physiological processes of hair follicles and thus achieves the purpose of permanent hair removal.
Diode Laser Hair Removal Applications:
Permanent hair removal for all kinds color of Hair(I, II,III, IV, V, VI.).
It can be used for all kinds of body areas, like lip hair, beard, chest hair, armpit hair, back hair, arm hair, leg hair, and unwanted hair outside the bikini line.
Diode Laser Hair Removal Advantages:
The 20*20mm large square spot not only is capable of eliminating treatment dead zone of traditional round one but also has high efficiency, fast speed and larger treatment area.
Since laser can penetrate directlyinto hair follicles, energy loss can be prevented.
It is so safe and comfortable that patients can have a relaxing experience.
The treatment time is shortened on account that its velocity is about four or five times faster than normal machine.
Diode Laser Hair Removal Results:
The repeated treatments are usually necessary because hair growth and a loss naturally occur in a cycle, and laser treatment works best with hair follicles in the new-growth stage.
KRLASER is Diode Laser hair removal method uses groundbreaking technology to offer a simple, one-stop solution for truly effective hair removal. The professional diode laser machines feature the Strong TEC Sapphire Contact Cooling technology to avoid injury to the surrounding tissue. The sweeping In-motion delivery technique keeps the laser in constant motion ensuring full coverage.
Diode Laser Hair Removal Specifications:
| | |
| --- | --- |
| Display screen: 10.4 inch TFT true-color touch screen | Laser type:Diode Laser |
| Wavelength: 755nm, 808nm, 1064nm | Spot size: 15*15mm (20*20mm) |
| Model | KR-BM108 |
| Laser Energy:0~120J/cm2 | Laser Power:5%~100% |
| Frequency: 1~10HZ | Pulse width: 10~400ms |
| Power: 2000W | Voltage:110V/220V 50-60Hz |
| Cooling System: Air+Water +Semiconductor | Package dimension:67*56*47cm |
| Gross weight: 38kg | |
Additional information
| | |
| --- | --- |
| Weight | 38 kg |
| Dimensions | 67 × 56 × 47 cm |