Diode laser and Nd Yag Laser and IPL 3 in 1 Multifunction Machine KR-M502
Diode laser and Nd Yag Laser and IPL 3 in 1 Multifunction Machine One multi-purpose platform that provides a comprehensive range of popular treatments.
Get a quote
Treatment Theory
SHR: SHR or Super Hair Removal is a relatively newer technology which uses gentle pulses with a high frequency. This laser hair removal technology allows the skin to be heated gently, but with the rapid pulses, the energy is then accumulated by the skin. While 50% of the energy is targeted at the melanin (similar to IPL), the other 50% targets the stem cells responsible for hair production, which is a very important point to note as SHR thereby targets both fine and coarse hairs. Ultimately, it leads to an improved efficacy with less discomfort and pain.
ND.YAG Laser: Nd.YAG laser equipment adopts the Q-switching mode, which makes use of the instantaneous emitted laser to break the pigment. After absorbing the energy of the laser, the pigments swell and break down. Some pigments in skin-deep cuticle fly off the body immediately, and other pigments in deep structure break down and become the tiny granule can be engulfed and digested by lymphocytes, which are eventually egested from the body without damage on the around normal skin.
Diode Laser: The Diode Laser hair removal system involves a beam of concentrated light that is directed into hair follicles and the melanin contained in them. The pigment absorbs the laser energy, raising its temperature and is destroyed thereafter to achieve the purpose of permanent hair removal. while the surrounding skin hardly absorb the energy and then is protected from harm simultaneously.
Applications
Hair Removal
Skin Rejuvenation
Pigmentation Therapy
Vascular Therapy
Acne Therapy
Wrinkle Removal
Tattoo
Hollywood peel
Nevus of Ota
Freckle
Birthmark
Onychomycosis
Advantages
For SHR: 
1.Fast hair removal, fire up to 10 times/second (1-10 HZ), as fast as Diode Laser.
2.Lamps imported from Germany, 400000-500000 shots can be reached.
For Nd:YAG Laser:
1.3 types of laser, 532nm/1064nm/1320nm. Suitable for all skin types and tattoos.
2.Maximum power 1600mj can be reached. Others are only 1000mj.
3.This laser can fire up to 10 times/second (1-10Hz), but the normal laser is only 1-5Hz or 1-6Hz.     Its treatment is much faster.
For Diode Laser:
1.Big spot size 15mm * 15mm or 20mm * 20mm optional.
2.12 best-quality laser bars imported from "USA-COHERENT".
3.The laser generator has 50 ~ 80 million shots, long life time.
4.Safe permanent hair removal on all skin types (I, II,III, IV, V, VI).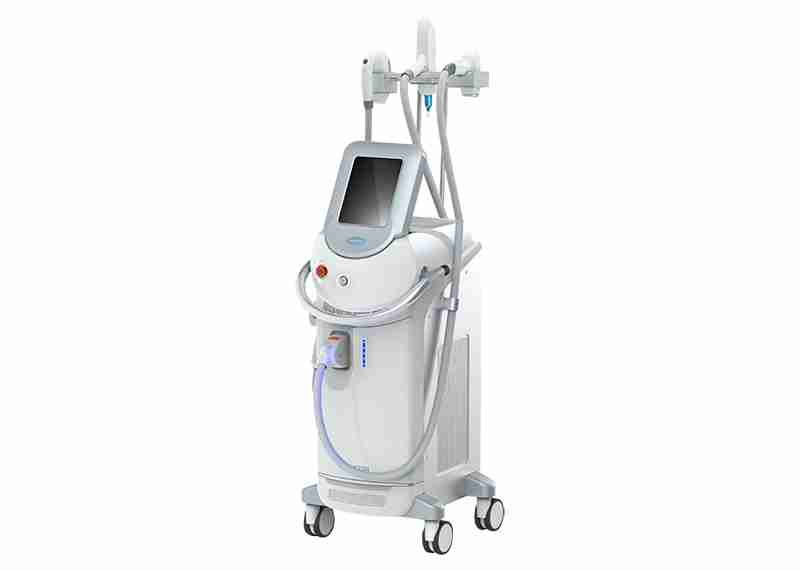 Specifications
Model
KR-BM5
Basic Specifications
Power: 3000W
Quantity of handle: 3
Screen: 10.4″ color touch LED display
Cooling system: water + wind + semiconductor + cooling gel
Voltage: 220V/50HZ, 110V/60HZ
Package size: 118cm * 68cm * 64cm
Package weight: 70kg
Wavelength
SHR: 480nm/530nm/590nm/640mm/690nm
YAG: 532nm/1064nm/1320nm
DIODE: 808nm
Spot size
SHR: 15mm * 50mm
DIODE: 15mm * 15mm or 20mm * 20mm (optional)
Frequency
SHR:1Hz ~ 10Hz
YAG:1Hz ~ 10Hz
DIODE: 1Hz ~ 10Hz
Energy
SHR:1~ 50J/cm²
YAG:1mj ~1600mj
DIODE: 0~120J/cm2
Three in One Multifunction Machine SHR + ND: YAG + DIODE LASER KR-BM5 Specifications
Additional information
| | |
| --- | --- |
| Origin | Beijing China |
| Application | Clinics, Salon, Spa |