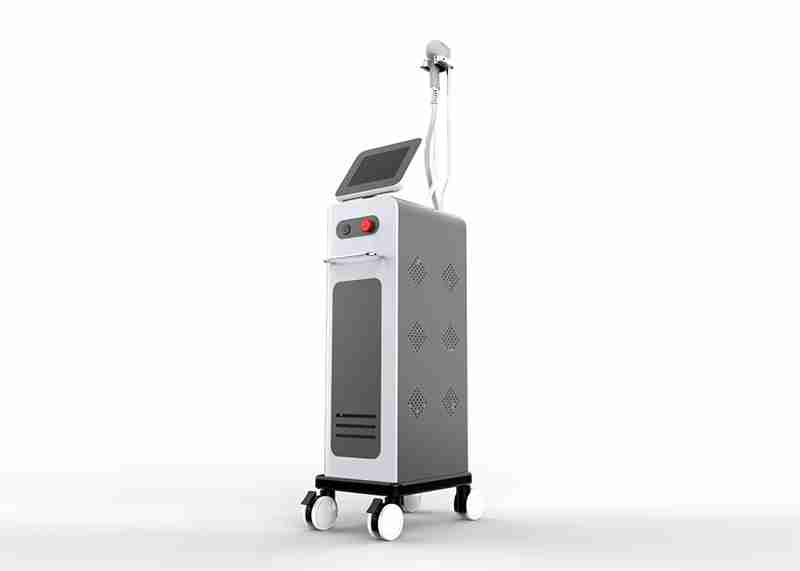 Vertical Diode Hair Removal Laser KR-BM109
Triple wavelength, High output power, Equipped with special skin cooling plate,Permanent hair removal for all hair colors and skin types.
Get a quote
Treatment Theory
This machine adopts selective thermodynamic theory, enabling energy to be absorbed by the melanin in follicles whose temperature rises instantly. As a result, the follicles, hair shaft and the supporting organization of stem cells around them are damaged, which fundamentally prevents the development of inelegant "fur" so as to achieve the goal of permanent hair removal. At same time, it won't hurt other normal cells or tissues.
755nm: The 755nm is characterized by more powerful melanin absorption, making it suitable for the light-colored and thin hair. In this way, this wavelength aims to remove the hair on such areas as eyebrows, upper lip, etc.
808nm: Suitable for almost all hair types, the 808nm can penetrate into the subcutaneous fat tissues as well as deep dermis so as to act on various body parts, making hair removal at any depth realized in an express and thorough way.
1064nm: Because the 1064nm possesses the features of lower melanin absorption yet deeper penetration in follicles, it mainly provides solutions for dark hair color. In other words, this longest wavelength focuses on the treatment areas like scalp, armpits, bikini line, etc.
---
Applications
Permanent hair removal for all kinds color of Hair(I, II,III, IV, V, VI.)
It can be used for all kinds of body areas, like lip hair, beard, chest hair, armpit hair, back hair, arm hair, leg hair, and unwanted hair outside the bikini line
---
Advantages
The 15*15mm large square spot not only is capable of eliminating treatment dead zone of traditional round one but also has high efficiency, fast speed and larger treatment area.
Since laser can penetrate directlyinto hair follicles, energy loss can be prevented.
It is so safe and comfortable that patients can have a relaxing experience.
The treatment time is shortened on account that its velocity is about four or five times faster than normal machine.
This machine covers more comprehensive functions due to its three wavelengths, 755nm for light thin hair, 808 for both light and dark and 1064 for dark.
---
Specifications
| | |
| --- | --- |
| Display screen: 10.4 inch TFT true-color touch screen | Laser type:Diode Laser |
| Wavelength: 755nm, 808nm, 1064nm | Spot size: 15*15mm or 20*20mm |
| Laser Energy:0~120J/cm2 | Laser Power:5%~100% |
| Frequency: 1~10HZ | Pulse width: 10~400ms |
| Power: 3000W | Voltage:110V/220V 50-60Hz |
| Cooling System: Air+Water +Semiconductor | Package dimension:112*42*60cm |
| Gross weight: 63kg |   |
Additional information
| | |
| --- | --- |
| Weight | 63 kg |
| Dimensions | 112 × 60 × 42 cm |