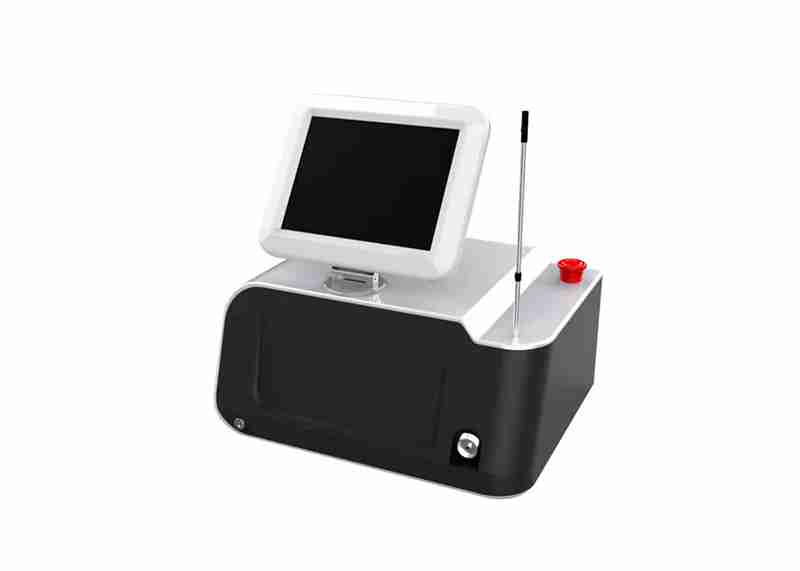 980nm Surgical Diode Laser KR-SD01
ONE Machine with Multiple Functions for Vascular Removal / Body Slimming / Gynecology, Optional Fiber Coupling Technology and 7 Different Accessories Optional
Get a quote
Vascular Removal / Body Slimming / Gynecology  
ONE Machine with Multiple Functions
Optional Fiber Coupling Technology
7 Different Accessories Optional
Treatment Theory
980nm laser is the optimum absorption spectrum of Porphyrin vascular cells. Vascular cells quickly absorb the high energy of 980nm wavelength laser nearly 100%, solidification occurs, and finally dissipated.
Compared with the traditional method, the 980nm diode laser can reduce redness, burning of the skin, and less chance of scars. To reach the target tissue more accurately, the laser energy is delivered by a professional design handpiece. Replacing different handles, there are different treatment effects, such as weight loss and shaping, gynecological diseases, physical therapy, etc.
The equipment can stimulate the dermal collagen growth while vascular treatment, increase epidermal thickness and density so that the small blood vessels are no longer exposed. At the same time, elasticity and resistance of the skin are significantly enhanced, too.
Applications
Pigmented lesions removal
Acne Treatment
Gynecology Treatment
Shrink Vagina
Enhance Sensibility
Destroy Cellulite
Body Slimming
Body Reshaping
Advantages
Vascular Removal / Body Slimming / Gynecology, three in one 
Effective immediately, the effect is visible after ONE treatment
No down time, easy to operate, treatment is high-efficiency
Noninvasive, no anesthesia, treatment is safe and easy
No need special protection after treatment, maintenance is very simple
Patients have a wide range of applications alternative
Continuous pulse, Single pulse, Repeat pulse, three working modes optional
Before and After
Specifications
| | |
| --- | --- |
| Laser Type | Diode laser |
| Wavelength | 980nm |
| Treatment Mode | Continuous, Single, Repeat |
| Output Power | 1W ~ 30W |
| Pulse Width | 1ms ~ 999ms |
| Focal Length | 1.0mm, 2.0mm, 3.0mm |
| Beam Delivery | Fiber of 400um, 600um; SMA 905 connector |
| Screen | 10.4" color touch LCD screen |
| Aiming Beam | 650nm, <5MW |
| Voltage | 220V/50HZ, 110V/60HZ |
| Package size/weight | 60*50*37cm/17.5kg |
Additional information
| | |
| --- | --- |
| Weight | 17.5 kg |
| Dimensions | 60 × 50 × 37 cm |